Basics
Tdarr Plugins are single JavaScript files used to define rules for processing media files. Each plugin should have details and plugin exported functions.
Plugins go through a cyclic process until the new output file meets all conditions of the Plugins in the Plugin Stack.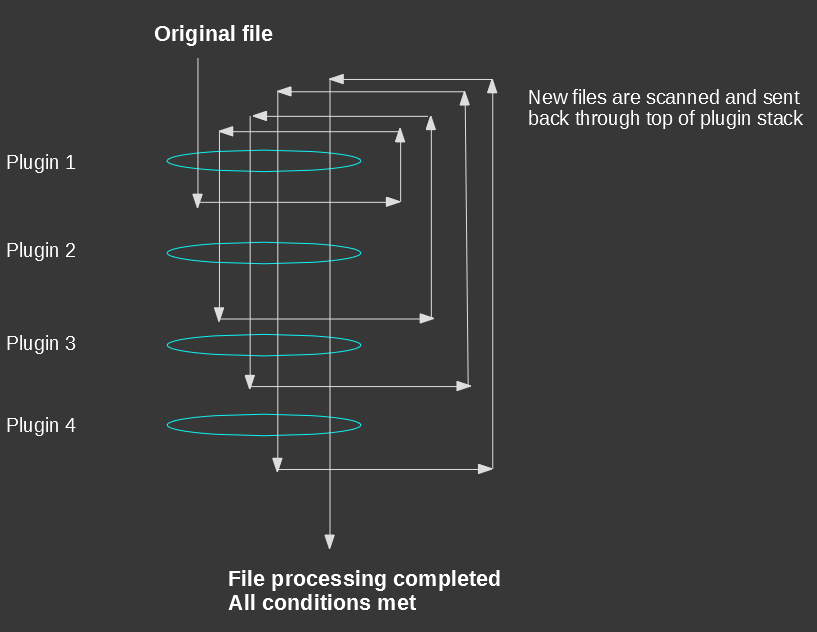 Source​
There are two sources for Plugins
Community​
Plugins added the to Tdarr Community Plugins repo found at: https://github.com/HaveAGitGat/Tdarr_Plugins
Community Plugins are automatically downloaded and updated by Tdarr.
Local​
Plugins found only on your local system
Stage​
There are two types of plugin Stage
Pre-processing​
Plugins that run before your files are processed to determine what transcode arguments are used.
Post-processing​
Plugins that run after your files have finished being processed by the 'Pre-processsing' plugins.
Operation​
There are two types of plugin Operation (applies to Pre-processing plugins)
Transcode​
This plugin type (almost all of the Community Plugins) contains filter and transcode rules to determine what should be done with a file.
Filter​
A simpler type of plugin that only contains filter logic (no transcode argument logic). If the processFile key is set as false, the Filter plugin will break out of the Plugin stack cycle, causing all subsequent plugins in the stack to be skipped.